Ki-Carma Premium Potting Mix feeds plants for up to 8 months!
The Benefits of Ki-Carma Premium Potting Mix:
Formulated to promote healthy growth and colour in all plant types including potted colour; ornamental shrubs; hanging baskets and herbs & veggies
Contains Up Rite, a controlled release fertilizer for quicker greening with added minerals providing essential nutrition for strong up rite growth
Contains Trace Elements that are vital for healthy plant growth elements including magnesium, iron, zinc, copper and sulphur
Contains Coir Fibre, a renewable resource made from the outer shell of a coconut aids in water absorption and retention allowing air and nutrients to move about within the mix
Contains Zeolite, a safe natural mineral that allows the potting mix to store and release moisture and nutrients to the plant
Contains Seaweed which provides vitamins and minerals
Contains Water Crystals for added increase water storage capacity
Certified Product Australian Standard AS 3743
| Bag Size | Bags Per Pallet (Loscam) | Barcode |
| --- | --- | --- |
| 25 Litre | 78 bags | 9 327459 000537 |
| 50 Litre | 44 bags | 9 327459 000544 |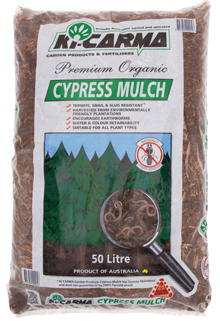 Ki-Carma Cypress Mulch
Ki-Carma Cypress Mulch is a premium organic mulch that is naturally termite resistant.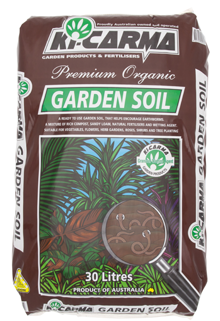 Ki-Carma Garden Soil
Ki-Carma Garden Soil is ready to use and is suitable for a wide range of uses. Ideal for topping up and building garden beds and vegetable gardens and mixing in with potting mix to bulk up.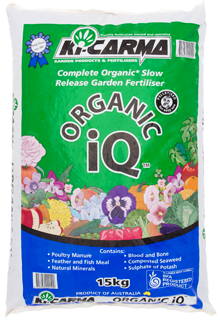 Ki-Carma Organic iQ™
A complete slow release garden fertiliser Organic Certified by Australian Certified Organic, containing a range of organic inputs. Organic iQ™ is the right choice for today's home gardener. Being palletised; it is easy to apply and is fully composted so it won't burn your plants.