Ki-Carma Chicken Manure is an organic product sourced from layer bird sheds only which has been composted for several months to ensure a pleasant workable product suitable for your garden needs.
The Benefits of Ki-Carma Chicken Manure:
100% natural, no greenwaste
Composted, milled and weed free
Improves the structure and ecology of all soil types
Beneficial microbes to stimulate soil
Suitable for a range of garden plants including vegetables, fruit & citrus trees and palm trees
Makes an excellent fertiliser in lawn preparation
How to Use:
Work into the soil by lightly spreading it over the surface to a depth of 10-15mm, till the soil and water in well but keep the manure away from the base of the plant
| Bag Size | Bags Per Pallet (Chep) | Approx. Coverage | Barcode |
| --- | --- | --- | --- |
| 30 Litre | 78 bags | 1 bag = approx. 4sqm | 9 327459 000087 |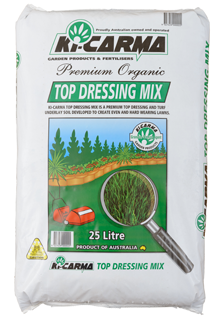 Ki-Carma Top Dressing Mix
Our Top Dressing Mix is premium top dressing and turf underlay soil developed to create an even and hard wearing lawn.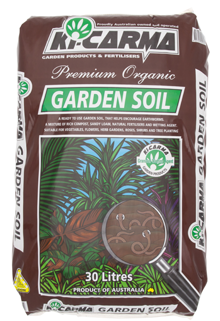 Ki-Carma Garden Soil
Ki-Carma Garden Soil is ready to use and is suitable for a wide range of uses. Ideal for topping up and building garden beds and vegetable gardens and mixing in with potting mix to bulk up.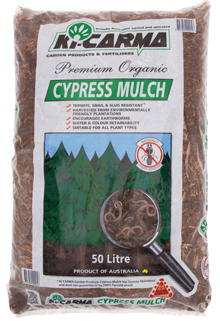 Ki-Carma Cypress Mulch
Ki-Carma Cypress Mulch is a premium organic mulch that is naturally termite resistant.
Other Products in this Range