Ki-Carma Cypress Red Chip is 100% cypress chip that has been coloured to a vibrant red.
The Benefits of Ki-Carma Cypress Red Chip:
Natural organic product
Pleasant cypress natural aroma
Naturally termite resistant
Ideal for embankments; slopes & wind swept areas as the chip will not blow away
Suitable for all plant types
Retains moisture thus reduces water requirements for your garden
Protects plants from extreme hot and cold weather
Controls and supresses weeds
Slow decomposition, cypress chip will last longer
At times, condensation may occur within the bag, if this has happened, Ki Carma advises to install the product into your designated area and allow the sun to dry the chip naturally for a day or two before you water the area. If colour transfer occurs during installation, simply wash off using soap and water.
| Bag Size | Bags Per Pallet (Loscam) | Approx. Coverage (50mm thick) | Barcode |
| --- | --- | --- | --- |
| 50 Litre | 55 bags | ¾ bag = approx. 1sqm | 9 327459 000131 |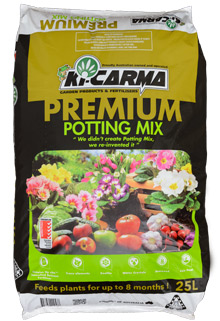 Ki-Carma Premium Potting Mix
Ki-Carma Premium Potting Mix feeds plants for up to 8 months!
Ki-Carma Garden Soil
Ki-Carma Garden Soil is ready to use and is suitable for a wide range of uses. Ideal for topping up and building garden beds and vegetable gardens and mixing in with potting mix to bulk up.
Other Products in this Range