Ki-Carma Sugar Cane Mulch is environmentally friendly and made by using the tops & leaves of sugar cane.
The Benefits of Ki-Carma Organic Sugar Cane Mulch:
Natural organic product
Protects plants from extreme hot and cold weather
Suitable for all plant types
Encourages earthworms
Conserves soil moisture
Reduces soil erosion
Compressed bale equals value for money, 1 bale covers up to a huge 7sqm
Bag Size
Volume
Bags per Pallet (Chep)
Approx. Coverage
(50mm thick)
Barcode
Compressed Bale
7sqm
48 bags
1 bale = up to 7sqm
9 327459 000292
Ki-Carma Companion Products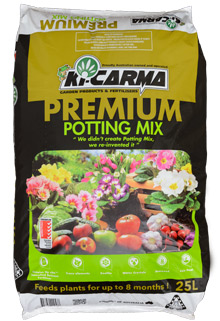 Ki-Carma Premium Potting Mix
Ki-Carma Premium Potting Mix feeds plants for up to 8 months!
Ki-Carma Garden Soil
Ki-Carma Garden Soil is ready to use and is suitable for a wide range of uses. Ideal for topping up and building garden beds and vegetable gardens and mixing in with potting mix to bulk up.
Other Products in this Range