Ki-Carma Gypsum also known as 'clay breaker' helps improves the physical condition of heavy clay soils that is suitable for all year-round use.
The Benefits of Ki-Carma Gypsum:
Improves heavy clay soils and allows better water and root penetration
Will not alter soil pH levels
Increases crop yields
Suitable for all plant types and lawns including buffalo
How to Use:
Home gardens & vegetables – 200-500gm per square metre
Commercial – 2-5 tonne per hectare
Lawns – under turf 1-2kg per square metre
Lawns – existing 1-2kg per square metre, aerate the lawn and spread the gypsum over the lawn & rake in, if unable to aerate lawn first, water gypsum in heavily once spread
| Bag Size | Bags Per Pallet (Chep) | Barcode |
| --- | --- | --- |
| 25 kg | 48 bags | 9 327459 000742 |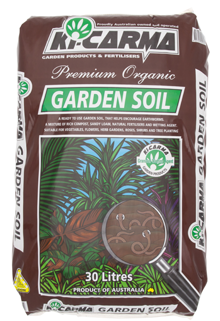 Ki-Carma Garden Soil
Ki-Carma Garden Soil is ready to use and is suitable for a wide range of uses. Ideal for topping up and building garden beds and vegetable gardens and mixing in with potting mix to bulk up.
Other Products in this Range