Ki-Carma Top Dressing Mix is suitable for repairing worn and damaged areas. Containing organic fertiliser and composted materials, it may also be used on existing lawns to enhance and enrich their appearance and improve the growth.
The Benefits of Top Dressing Mix:
Correct uneven areas in your lawn such as low spots or holes
Increases nutrient retention
Improves drainage
How to Use:
For established lawns, start by mowing your lawn then spread the mix evenly over the desired area, rake in and broom the mix into the lawn profile
Make sure you leave the tips of the grass exposed and do not do more than 1cm thick in a single application
| Bag Size | Bags Per Pallet (Loscam) | Barcode |
| --- | --- | --- |
| 25 Litre | 66 bags | 9 327459 000025 |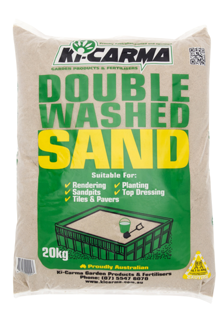 Ki-Carma Double Washed Sand
Ki-Carma Double Washed Sand is processed through a water filtration system twice to remove any contaminates.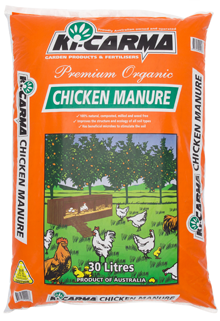 Ki-Carma Chicken Manure
Ki-Carma Chicken Manure is a fully organic product sourced from lyer birds which has been full composted to ensure a pleasant workable product suitable for your garden needs.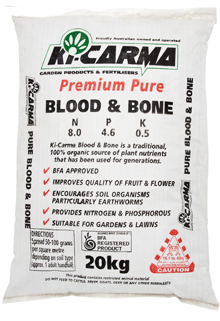 Ki-Carma Blood & Bone
Ki-Carma Blood & Bone provides nitrogen and phosphorous and other nutritional benefits for your gardens and lawns. Used by many organic gardeners for generations, Blood & Bone is an excellent source of plant nutrients and improves the quality of fruit and flowers.
Other Products in this Range