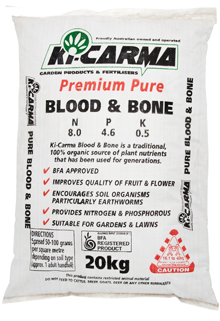 Blood & Bone
Premium Pure
Ki-Carma Blood & Bone provides nitrogen and phosphorous and other nutritional benefits for your gardens and lawns. Used by many organic gardeners for generations, Blood & Bone is an excellent source of plant nutrients and improves the quality of fruit and flowers.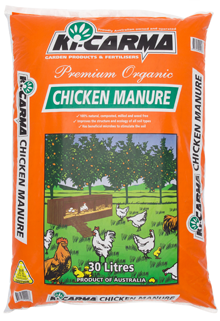 Chicken Manure
Premium Organic
Ki-Carma Chicken Manure is an organic product sourced from layer bird sheds only which has been composted for several months to ensure a pleasant workable product suitable for your garden needs.
It is 100% natural, no greenwaste. It is composted, milled, weed free, improves the structure and ecology of all soil types. It is beneficial microbes to stimulate soil, suitable for a range of garden plants and makes an excellent fertiliser.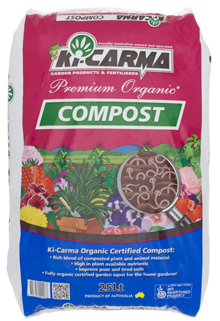 Compost
Ki-Carma Compost is a rich blend of composted plant and animal material that improves and rejuvenates poor and tired soils including clay hardened soil areas. Compost is an excellent way to add much needed organic matter and body back to the garden.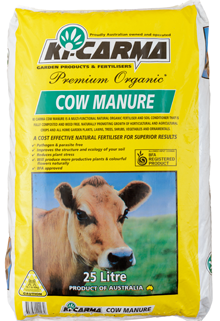 Cow Manure
Premium Organic
Ki-Carma Cow Manure is a premium certified manure that will improve the structure and ecology of your soil and is a natural organic fertiliser with superior results & low odour. Fully composted, weed free with no added green waste, pathogen and parasite free, Ki-Carma Cow Manure will produce more productive plants and colourful flowers naturally.
Garden Soil
Premium Organic
A ready to use garden soil that helps encourage earthworms. A rich mixture of compost, sandy loam and natural fertilisers with added wetting agent and no artificial additives.
Ki-Carma Garden Soil is well suited for a wide range of uses including vegetation, herbs to shrubs and tree planting.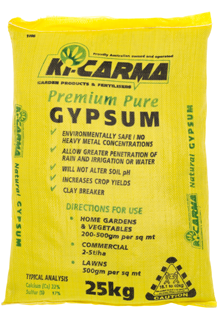 Gypsum
Premium Pure
Ki-Carma Gypsum also known as 'clay breaker' helps improves the physical condition of heavy clay soils that is suitable for all year-round use. It will not alter soil pH levels. It increases crop yeilds, and is suitable for all plant types and lawns including buffalo.
Ki-Carma Natural Gypsum has purity of greater than 95%, it's environmentally safe with no heavy metals, particularly cadmium.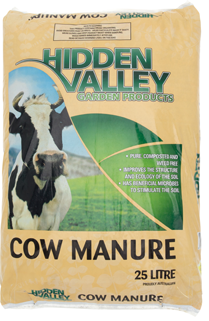 Hidden Valley Cow Manure
Hidden Valley Cow Manure makes for an excellent soil conditioner. Best results are achieved when lightly worked into the soil prior to planting and when spread over soil before mulching. Hidden Valley Cow Manure is a natural fertiliser and soil conditioner, pure, composted and weed free. It has beneficial microbes to stimulate the soil.
Ideal for all home gardens, lawns, trees, shrubs, vegetables and ornamentals.
Top Dressing Mix
Premium Organic
Ki-Carma Top Dressing Mix is predominately used to correct poor preparation and lack of soil underneath lawns or to fill in low spots or correct uneven areas in your lawn. It increases nutrient retention to assist in plant growth, and improves soil drainage.
With added natural fertiliser and added wetting agent you will create the perfect lawn to make your neighbour green with envy.