Ki-Carma Cow Manure is a premium certified manure that will improve the structure and ecology of your soil and is a natural organic fertiliser with superior results & low odour.
The Benefits of Ki-Carma Cow Manure:
Multi-functional natural organic fertiliser and soil conditioner
Fully composted, weed free with no added green waste
Reduces plant stress by improving your soil organically
Will produce more productive plants & colourful flowers naturally
Pathogen and parasite free
Naturally promotes growth of horticultural and agricultural crops
Ideal for all home gardens; lawns; trees; shrubs; vegetables & ornamentals
Certified Product Australian Organic Ltd 10396
| Bag Size | Bags Per Pallet (Loscam) | Barcode |
| --- | --- | --- |
| 25 Litre | 72 bags | 9 327459 000070 |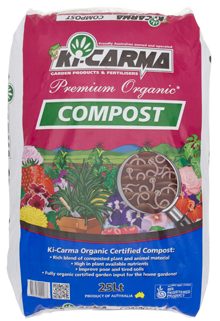 Ki-Carma Compost
Ki-Carma Compost is a rich blend of composted plant and animal material. High in plant nutrients, improves and rejuvenates poor and tired soils including clay harden soil areas.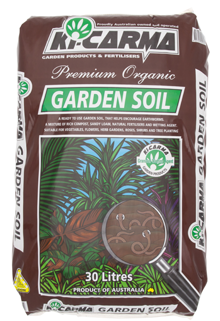 Ki-Carma Garden Soil
Ki-Carma Garden Soil is ready to use and is suitable for a wide range of uses. Ideal for topping up and building garden beds and vegetable gardens and mixing in with potting mix to bulk up.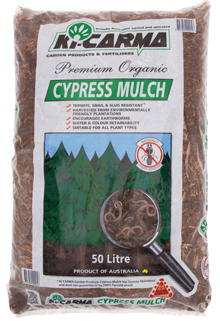 Ki-Carma Cypress Mulch
Ki-Carma Cypress Mulch is a premium organic mulch that is naturally termite resistant.
Other Products in this Range