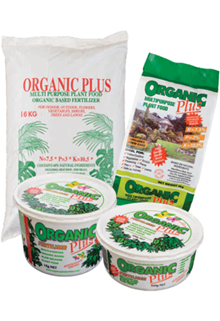 Organic Plus Plant Food
Organic Plus Plant Food is a multipurpose plant food, which produces superior growth and performance. Essential nutrients like fish, meat & bone meal together with concentrated forms of nitrogen and calcium all form a valuable source of plant sustenance. Plant Food has excellent coverage that lasts for months.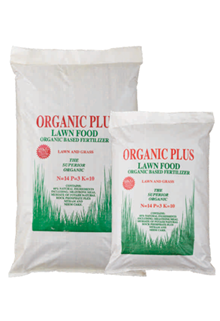 Organic Plus Lawn Food
Organic Plus Lawn Food produces superior growth and colour and is suitable for all lawn types including Buffalo.
This particular Lawn Food is fast acting and will rejuvenate your tired old lawn. With many essential nutrients, it is non-pelleted that will pass through your fertiliser spreader with ease.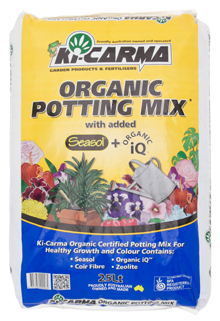 Organic Potting Mix
Ki-Carma Organic Potting Mix is a complete organic product that contains essential nutrients to promote healthy growth and colour.
Organic Potting Mix contains Seasol®, a seaweed concentrate that aids in the flowering & fruiting of plants and stimulates beneficial soil micro-organisms. Another key ingredient is Organic iQ™; a pelletised fertiliser that provides plant nutrients and necessary trace elements.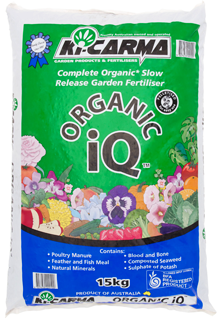 Organic iQ™
Complete Organic Slow Release Garden Fertiliser
A complete slow release garden fertiliser Organic Certified by Australian Certified Organic, containing a range of organic inputs. Organic iQ™ is the right choice for today's home gardener. Being pelletised; it is easy to apply and is fully composted so it won't burn your plants.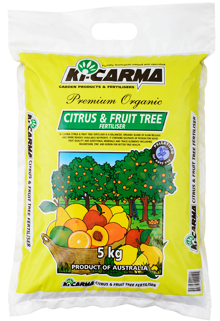 Citrus & Fruit Tree Fertiliser
Premium Organic
Citrus Food is a balanced, organic blend of slow release and readily available nutrients. It contains Sulphate of Potash for better fruit quality along with trace elements for better tree health.
Citrus & Fruit Tree Fertiliser contains a slow release fertiliser that is gentle on plants and provides necessary plant nutrients. Additional minerals and trace elements are fundamental for quality fruit and better tree health.