Hidden Valley Lush Growth – this product is currently de-ranged
Hidden Valley Lush Growth Potting mix is an alternative mix that is suitable for all applications.
The Benefits of Hidden Valley Lush Growth Potting Mix:
Premium plant mix ideal for herbs, veggies & fruit trees
Contains Coir Peat to retain water absorption
Contains slow release fertiliser for 6 months
Suitable for both indoor and outdoor use
Contains no greenwaste
| Bag Size | Bags Per Pallet (Loscam) | Barcode |
| --- | --- | --- |
| 25 Litre | 78 bags | 9 327459 000711 |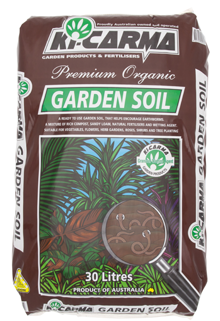 Ki-Carma Garden Soil
Ki-Carma Garden Soil is ready to use and is suitable for a wide range of uses. Ideal for topping up and building garden beds and vegetable gardens and mixing in with potting mix to bulk up.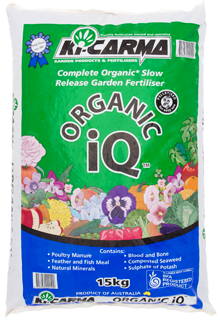 Ki-Carma Organic iQ™
A complete slow release garden fertiliser Organic Certified by Australian Certified Organic, containing a range of organic inputs. Organic iQ™ is the right choice for today's home gardener. Being palletised; it is easy to apply and is fully composted so it won't burn your plants.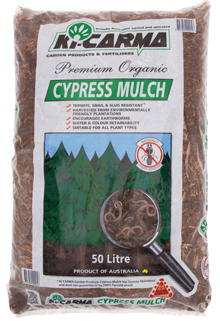 Ki-Carma Cypress Mulch
Ki-Carma Cypress Mulch is a premium organic mulch that is naturally termite resistant.